Cody Savoie is a Louisiana-born Cajun Voice Actor who resides and works in the DFW area. He has worked on various Crunchyroll properties, including: One Piece (Charlotte Mont-d'Or), Hell's Paradise (Yamada Asaemon Eizen), Aoashi (Takenori Kaneda), and many mad scientists, such as Akio Tademaru in Kemono Jihen and Victor Steinberg in No Guns Life. He is also a writer and artist, producing a fan audiobook based on JoJo's Bizarre Adventure named "The Lighted Stage."
Microphone
• Neumann TLM103Interfaces & Preamps
• Solid State Logic SSL2Internet Speed
• 80mbps download
• 11.5mbps uploadSoftware
• Adobe Audition
• REAPER
• Source Connect Standard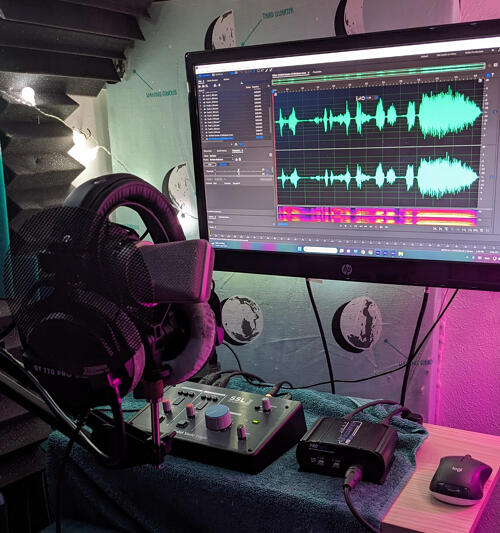 | Character | Title | Type | Platform |
| --- | --- | --- | --- |
| Charlotte Mont-d'Or | One Piece | Anime ADR | Crunchyroll |
| Gambit | Marvel Move | Mobile App | ZRX |
| Akinori Kaneda | Aoashi | Anime ADR | Crunchyroll |
JoJo: The Lighted Stage
Originally started as an art project to create a series of eyecatches for my own concept of a JoJo part, I decided to flesh out the characters and story and put this video packet together. This was not a trailer in anticipation of anything more fleshed out, just an art exercise that I wanted to share.I had no intention of following through with anything beyond this stage, but lo and behold, inspiration took hold and I decided to commit to writing the series as a fully narrated and voice acted audiobook.